Casa Cornelia Law Center is a 501(c)(3) public interest law firm providing quality legal services to victims of human and civil rights violations. Casa Cornelia has a primary commitment to indigent persons within the immigrant community in Southern California. It seeks to educate others regarding the impact of immigration law and policy on the community and the public good. The mission and spirit of Casa Cornelia is rooted in the tradition of service of the Society of the Holy Child Jesus and that of its founder, Cornelia Connelly. It encompasses the belief that God has chosen to need men and women in every age to reveal God's love and to make known the reality of God's saving presence through their service to others. Casa Cornelia seeks to foster a spirit of simplicity, honesty, kindness, and cheerfulness among colleagues and with those served. It has chosen Thomas More as the exemplar of these qualities to mark its practice of law.
Casa Cornelia Law Center es un despacho de abogados de interés público conforme a 501 (c) (3) que brinda servicios legales de calidad a víctimas de violaciones de derechos humanos y civiles. El compromiso principal de Casa Cornelia es con las personas indigentes dentro de la comunidad inmigrante en el sur de California. Pretende educar a los demás sobre el impacto de las leyes y políticas de inmigración en la comunidad y el bien público. La misión y el espíritu de Casa Cornelia se basan en la tradición de servicio de la Sociedad del Santo Niño Jesús y la de su fundadora, Cornelia Connelly. Engloba la convicción de que Dios ha elegido necesitar hombres y mujeres de todas las edades para revelar el amor de Dios y dar a conocer la realidad de la presencia salvadora de Dios a través de su servicio a los demás. Casa Cornelia busca fomentar un espíritu de simplicidad, honestidad, amabilidad y alegría entre los colegas y las personas que atiende. Ha elegido a Thomas More como el ejemplo de estas cualidades para marcar su práctica del derecho.
The Society of the Holy Child Jesus (Society) is an international congregation of women within the Roman Catholic tradition committed to providing service to others. The Society is comprised of three provinces: African, American, and European. Its international offices are in Rome, Italy; the offices of the American Province are in Rosemont, Pennsylvania, USA. Although Casa Cornelia Law Center is a legally independent corporation governed by its own Board of Directors, Casa Cornelia continues to be sponsored by the American Province of the Society.
The Society was founded in England by Cornelia Connelly in 1846. The Law Center is named after this nineteenth century American woman whose courage, faith, and vision gave birth to the Society.
La Sociedad del Santo Niño Jesús (Sociedad) es una congregación internacional de mujeres dentro de la tradición católica romana, comprometida a brindar servicio a los demás. La Sociedad está compuesta por tres provincias: la africana, la estadounidense y la europea. Sus oficinas internacionales están en Roma, Italia; las oficinas de la provincia estadounidense se encuentran en Rosemont, Pensilvania, EE.UU. Aunque Casa Cornelia Law Center es una corporación legalmente independiente gobernada por su propia Junta Directiva, Casa Cornelia continúa siendo patrocinada por la provincia estadounidense de la Sociedad.
La Sociedad fue fundada en Inglaterra por Cornelia Connelly en 1846. El despacho de abogados lleva el nombre de esta mujer estadounidense del siglo XIX cuyo valor, fe y visión dieron a luz a la Sociedad.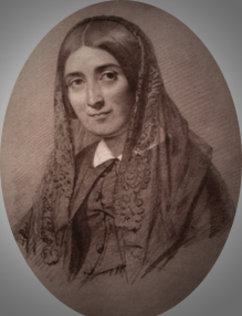 Born in Philadelphia in 1809, Cornelia Augusta Peacock married the Reverend Mr. Pierce Connelly in 1831 and assumed the role of rector's wife at Trinity Episcopal Church in Natchez, Mississippi. They served this congregation until 1831 when both Cornelia and Pierce became Roman Catholics. Eventually, the Connelly's relocated to Grand Coteau, Louisiana where Pierce taught English in the Jesuit college and Cornelia taught art and music in a nearby academy for girls. During the course of their marriage, five children were born to Pierce and Cornelia; one died in infancy and another, tragically, at four years of age. Both Cornelia and Pierce were deeply religious; both nurtured their lives through prayer and reflection.
Cornelia, however, was not prepared when, in October 1840, Pierce confided to Cornelia his decision to resume his ministry by becoming a Roman Catholic priest; he was ordained in Rome in 1840. The consequences of his decision profoundly changed Cornelia's life and that of the children.
On 1846, at the invitation of Bishop of Westminster, Cornelia went to England to found a congregation of women educators. This new congregation, which became the Society of the Holy Child Jesus​ prospered under Cornelia's leadership and at the time of her death in 1879, the Society numbered over one hundred women and its work had expanded to America.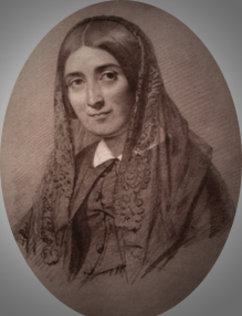 Nacida en Filadelfia en 1809, Cornelia Augusta Peacock se casó con el reverendo Pierce Connelly en 1831 y asumió el papel de esposa del rector en la Iglesia Episcopal Trinity en Natchez, Misisipi. Sirvieron a esta congregación hasta 1831, cuando Cornelia y Pierce se convirtieron en católicos romanos. Finalmente, los Connelly se mudaron a Grand Coteau, Luisiana, donde Pierce enseñó inglés en la universidad jesuita y Cornelia enseñó arte y música en una academia para niñas cercana. Durante el curso de su matrimonio, nacieron cinco hijos de Pierce y Cornelia; uno murió en la infancia y otro, trágicamente, a los cuatro años de edad. Tanto Cornelia como Pierce eran profundamente religiosos; ambos nutrieron sus vidas a través de la oración y la reflexión.
Sin embargo, Cornelia no estaba preparada cuando, en octubre de 1840, Pierce le confió a Cornelia su decisión de reanudar su ministerio al convertirse en sacerdote católico; fue ordenado en Roma en 1840. Las consecuencias de su decisión cambiaron profundamente la vida de Cornelia y la de los niños.
En 1846, por invitación del obispo de Westminster, Cornelia fue a Inglaterra para fundar una congregación de educadoras. Esta nueva congregación, que se convirtió en la Sociedad del Santo Niño Jesús, prosperó bajo el liderazgo de Cornelia, y, cuando murió en 1879, la Sociedad contaba con más de cien mujeres y su trabajo se había expandido a Estados Unidos.
Creator God, sustainer of Life and Law,
grant that I may minister to justice with compassion.
In this pursuit, enable me to strive,
as did your servant Thomas More,
To be able in argument and accurate in analysis,
strict in study and reasoned in conclusion.
Make me candid with clients
and honest with adversaries.
Keep me wary of cleverness
lest I win the point but lose myself.
Help me to treasure gentleness and simplicity.
and to be attentive to each client;
Sit with me at my desk; stand with me in court.
Grant me courage, wisdom and counsel.
Keep me kind and cheerful.
Amen
Dios creador, sustentador de la vida y la ley,
concédeme que pueda ministrar a la justicia con compasión.
En esta búsqueda, permíteme luchar,
como lo hizo tu siervo Thomas More,
para poder argumentar y precisar en el análisis,
estricto en estudio y razonado en conclusión.
Hazme sincero con los clientes
y honesto con los adversarios.
Mantenme cauteloso ante la astucia,
que no sea que gano el punto, pero me pierdo a mí mismo.
Ayúdame a valorar la gentileza y la simplicidad,
y a ser atento con cada cliente.
Siéntate conmigo en mi escritorio; quédate conmigo en el tribunal.
Concédeme valor, sabiduría y consejo.
Mantenme amable y alegre.
Amén
Casa Cornelia Law Center was founded when the leadership of the Society requested that Ann M. Durst, a member of the Society and an attorney, explore the possibility of founding Casa Cornelia as a contemporary mission serving those in need throughout the southwest of the United States of America.
Sister Ann conducted a study along the Mexican-American border to determine the need for legal services among the immigrant community. Her travels brought her to San Diego in the summer of 1992. Here in San Diego, the busiest land border crossing in the world, was the place to begin the Society's work for immigrants. On August 1, 1992, she was joined by Mary Wayne Gradon from the European Province of the Society. That day they signed the lease that made Casa Cornelia a reality.
Today, the need for Casa Cornelia's pro bono legal services remains. Each year there are more children crossing the San Diego/Tijuana border. Victims of domestic violence continue to contact Casa Cornelia seeking safety for themselves and their children. And, as conflict worldwide evolves, so do the number of asylum seekers pursuing freedom from persecution. We hope to alleviate these injustices using our training as lawyers and our passion for serving those in need.
Casa Cornelia Law Center se fundó cuando los líderes de la Sociedad solicitaron que Ann M. Durst, miembra de la Sociedad y abogada, explorara la posibilidad de fundar Casa Cornelia como una misión contemporánea al servicio de los necesitados en todo el suroeste de los Estados Unidos de América.
La hermana Ann realizó un estudio a lo largo de la frontera entre México y Estados Unidos para determinar la necesidad de servicios legales en la comunidad inmigrante. Sus viajes la trajeron a San Diego en el verano de 1992. Aquí, en San Diego, el cruce fronterizo terrestre más concurrido del mundo, fue el lugar para comenzar el trabajo de la Sociedad para los inmigrantes. El 1 de agosto de 1992, Mary Wayne Gradon de la Provincia Europea de la Sociedad se unió a ella. Ese día firmaron el contrato de arrendamiento que hizo de Casa Cornelia una realidad.
Hoy día, continúa la necesidad de los servicios legales pro bono de Casa Cornelia. Cada año hay más niños que cruzan la frontera entre San Diego y Tijuana. Las víctimas de violencia doméstica continúan contactando a Casa Cornelia en busca de seguridad para ellas y sus hijos. Y, a medida que el conflicto en el mundo evoluciona, también lo hace el número de solicitantes de asilo que buscan liberarse de la persecución. Esperamos aliviar estas injusticias utilizando nuestra capacitación como abogados y nuestra pasión por servir a los necesitados.